Average rent for Metro Vancouver
After only slight rental increases each month for many months, the cost of rent for unfurnished one-bedroom units saw a significant bump for September. In one month, the average jumped $63. This rise in rent could be due to increased demand at the start of a new school year, so we are interested to see where rental rates will be in October to see if this month is an outlier or the start of a new trend.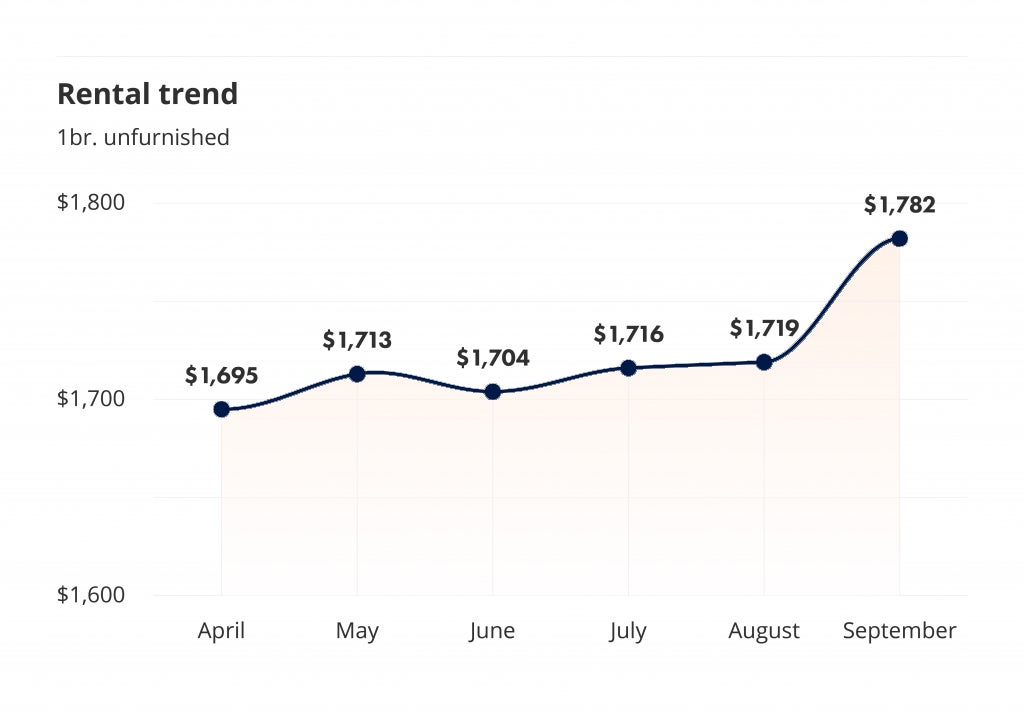 Month-to-month rent change
Comparing prices in August 2021 to September 2021, we are seeing some big changes particularly in furnished rents.
In Downtown Vancouver, rent jumped (+12.31%) significantly after simmering for months around the same levels. Also, rent went up (+7.91) in South Vancouver and New Westminster (+11.48) noticeably.
Other regions of Metro Vancouver like Burnaby and Surrey experienced practically no changes month-over-month.
Meanwhile, unfurnished rental rates went up slightly in most regions except for West Vancouver.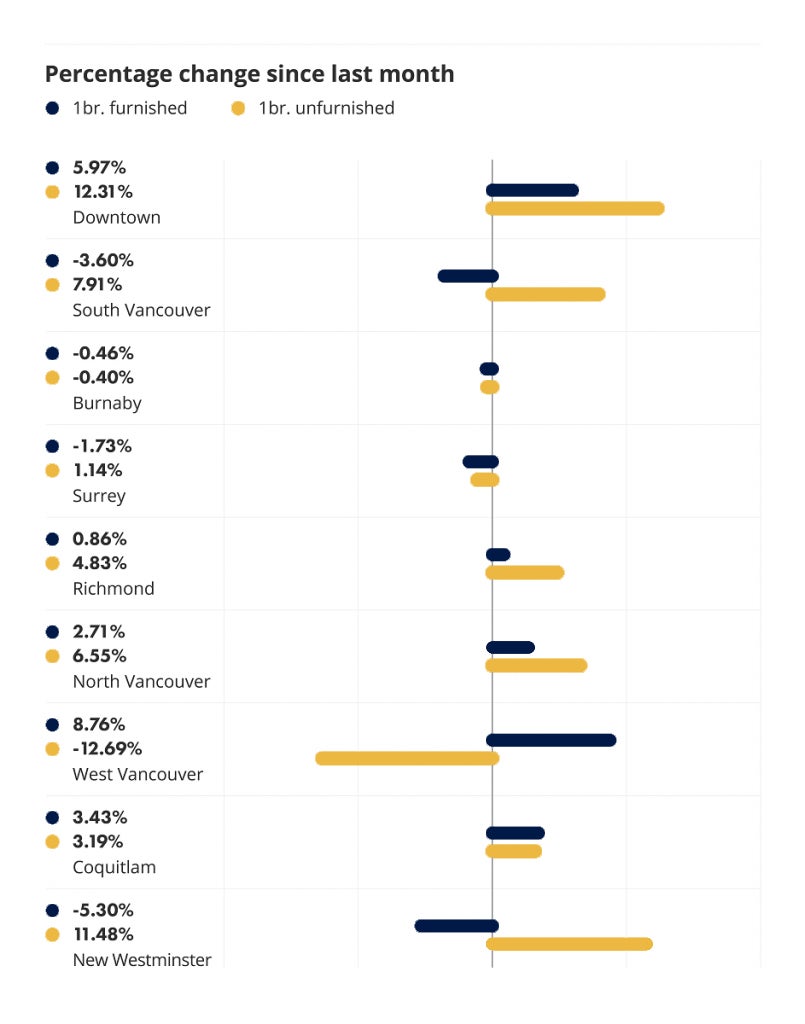 Where's the cheapest place to rent in Metro Vancouver by how much space you get? In September, the most affordable places for square footage are Surrey and Richmond while the most expensive is Downtown Vancouver. Overall, rent per square foot in Metro Vancouver is $2.48 while in Toronto it's $2.18.

Renter demographics
77% of renters are under the age of 34, with close to half of the renters between the ages of 25 and 34. We have seen growth in the Under 25 market, which could indicate there are more students returning to Vancouver as borders open and schools return to in-person instruction. Look to see the renter pool get younger over the coming months. In September, we have seen the under 25 rental distribution increase even further, as more students return to Vancouver. The under 25 rental market is now up to over 40% of all renters in Vancouver.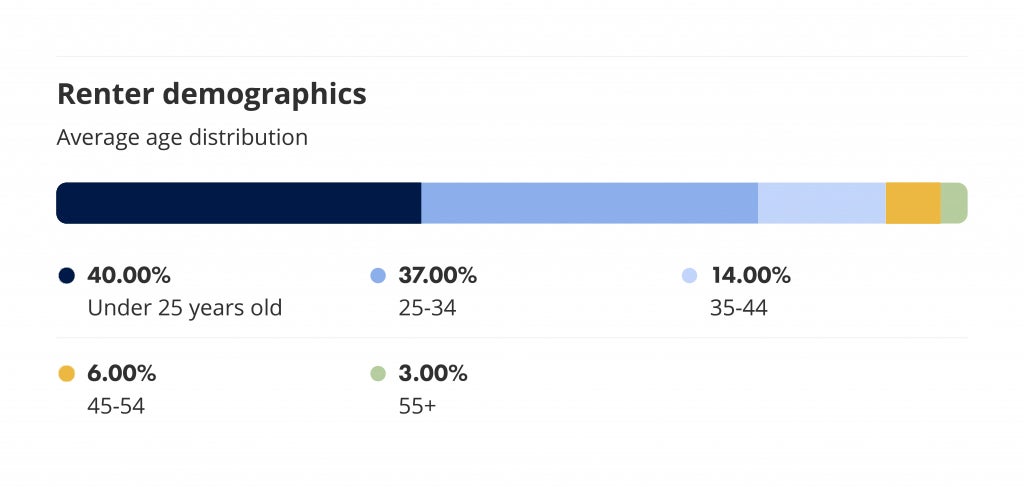 Nearly 40% of renters have pets, with this number increasing since last month. We have seen this number steadily increase over the past year as well. This is very important for landlords to keep an eye on, as you do not want to be limiting your renter pool.
Average unfurnished vs. furnished rates
The price difference between average rent for furnished and unfurnished one-bedroom units is just $138. In some neighbourhoods and for some listing types, the cost of furnished units is lower than unfurnished units. This trend has been happening for several months now in Toronto and we could be seeing a similar trend starting here too.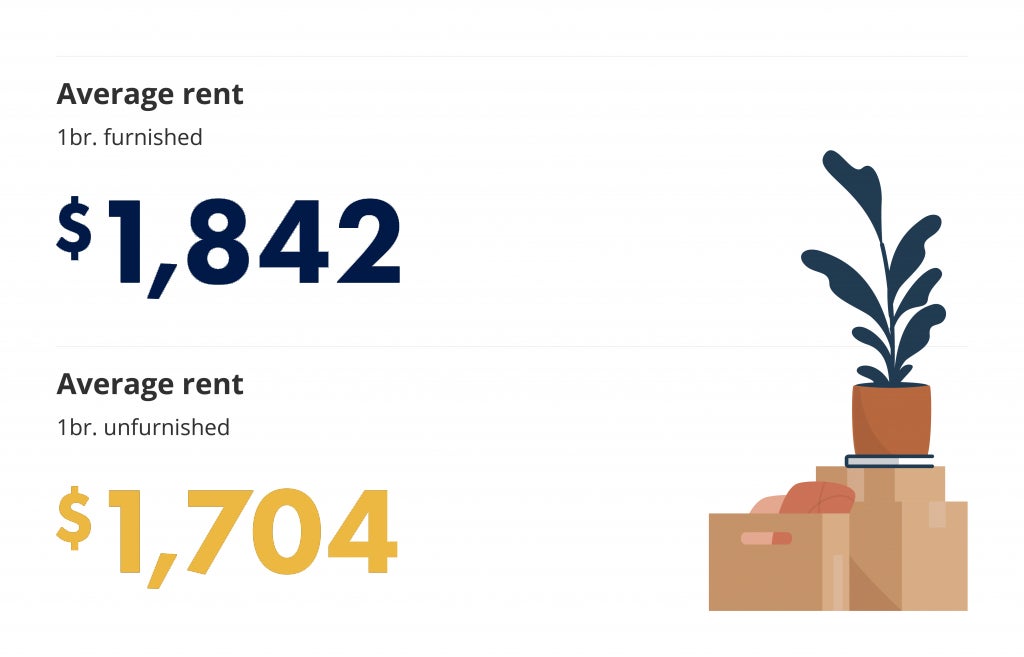 Keep following Vancouver Rent It for more monthly updates on the rental market and be sure to check out our website www.vancouverrentit.com!